ROLLING ANT ATTENDS "Museum of the XXI Century and
New Media Technologies"
16
Ferb 2017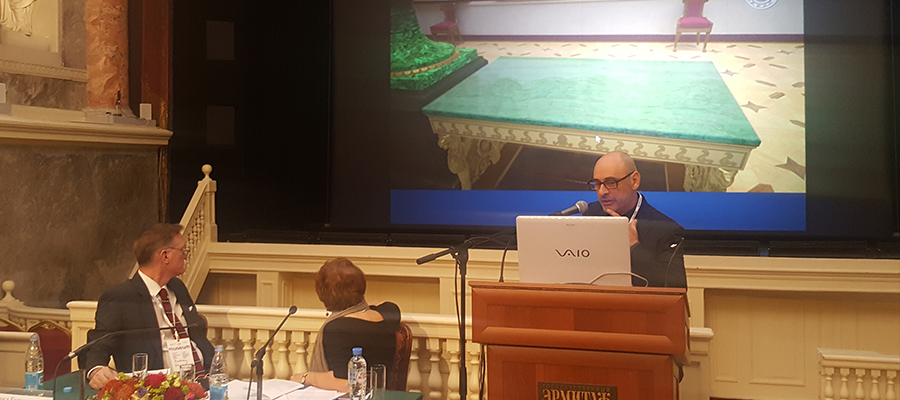 Rolling Ant are proud to have been invited to participate in the recent conference "Museum of the XXI Century and New Media Technologies" hosted by the Hermitage museum in St Petersburg, Russia. Attended by some of the most prestigious museums in the world, the event focused on the use of cutting edge technologies in the museum space.

The conference was attended by our own Charles Speyer and Robert Cianchi with a keynote address presented by Robert Cianchi on the benefits of the 3D digitalization of museum buildings and collections, AR and VR in all key areas of museum practice.
The presentation was accompanied by a VR demonstration available throughout the event that allowed participants to explore a reproduction of the Hermitage's Large Italian Skylight Room using HTC's Vive. The demo was widely praised by participants both for the high-quality of the 3D and also for the fact that viewers were able to remain immersed in the virtual gallery for as long as they desired without any feelings of nausea – a testament to the skill of the Rolling Ant team!
The talk itself covered everything from the initial 3D scanning of collections and creation of virtual museum spaces in 3D to the various benefits to museums of having their collections stored as digital assets.
The first topic broached was the use of 3D scan data in archiving and conserving the collection as well as allowing public access to works that would otherwise be too fragile or valuable to display.
The discussion then moved on to usage in internal situations such as curating virtual exhibitions for real spaces and how this benefits both curators as well as the support staff such as registrars and preparators, allowing all parties involved to give their input and solve any potential issues long before physical production begins.
Moving on to public facing tools Robert demonstrated how the scanned digital assets could easily be re-purposed for use in marketing, informational and educational tools on many platforms including mobile, touchscreen, web and VR/AR.
Finally, the talk concluded with the topic of 3D printing and how these assets could be used to physically reproduce replicas for use/display in other institutional spaces or for educational purposes as well as the option to monetize assets by allowing the public to purchase the digital files to download and print themselves.
The talk was presented in conjunction with Rodney Cook – president of the National Monuments Foundation in the USA - who discussed how giving the public access to virtual museums and collections would drive traffic to the physical spaces rather than decrease the need for people to visit in person. He also talked about the benefits for public institutions in being able to present their entire collections while physical limitations in gallery space limit what can be displayed publicly to a very small percentage of a museums total portfolio.